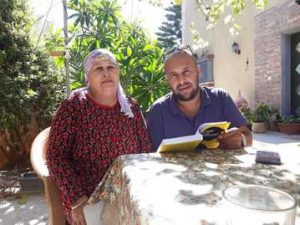 I wrote a book. Count those words. There are only four. Such a simple sentence.
But in reality, they add up to something quite monumental—at least in my life. I've got a real urge to climb the tallest mountain and shout them out to the high heavens: "I wrote a book!"
A lot of people have written books. In fact, I've actually written one—another one. But this one feels completely different. It feels more like an act of creation, more like the product of a real live birth–equally miraculous, almost as painful.
Accordingly, when I first held a copy of my book a few days ago, right there on the loading lock of a small printing press tucked into a corner of the Talpiot section of Jerusalem, one I'd randomly chosen from a stack of a thousand, it reminded me of what I'd felt, almost 24 years ago, when I held my first infant boy. Just like then, I wondered at its color, its weight, and the beauty in the details that, in this case, meant the font, the formatting and the binding. I thrust my nose right inside and took a deep breath. Yes, this creation smelled absolutely divine. Don't they all?
Four years of searching for the right words to express an idea, a moment, a feeling, a sentiment; four years of massaging sentences while underwater at the pool, while pounding the pavement in my Asics, while biking along a dusty road and while waiting in line at the supermarket. One glance at my children, who've gone from adolescence to nascent adulthood over the course of that time, spreading their wings and beginning to follow their dreams, is enough to understand just how much time has passed. When I first began this project they were still, for the most part, tucked safely close by, now they have each migrated to one part or another of the North American continent, far from my reach.
But the significance of that passage of time, quite significant in terms of my own life, pales in comparison with the immensity of this personal achievement. I sought to write about a phenomenon I felt deserved attention, one I'd been discussing for years with anyone who'd listen. I wanted to throw a spotlight on just how challenging it is to move from one country to another, to start again in a foreign language, to establish a life in terra incognita, to not only set up house, but actually create a home. And just 24 hours after holding that first book in my hand, I received an hint that I had reached my goal.
The proof arrived in the form of a photograph, one of those unexpected ones that just pop up in a WhatsApp feed, unannounced. And what a beautiful photo it was. There sat Muhammad, side by side with his mother Fatma, my housekeeper of 23 years, holding my Count to a Thousand open, as if in mid-read. Mother and son were seated in a beautiful garden that looked very much like my own, same bougainvillea, same palm trees, no surprise considering that their neighborhood, in Jisr az Zarqa, is just adjacent to mine. Fatma doesn't read, write or speak English. I don't read, write or speak Arabic. But we communicate perfectly in Hebrew and have shared a lifetime of conversations ranging from the miniscule to the monumental: discussing the heat, the rain, the snow!, laundry, personal health, death, weddings, engagements and births. You name it; we've covered it. And as the publication of my novel approached, Fatma was among the must excited, eagerly waiting to pick up a copy for her son, the eldest one, who just recently graduated from college and was an English reader. And so, when the books first arrived, Muhammad was the first to receive his copy and thanked me with this beautiful message sent alongside that lovely photo: "Congratulations! Thank you for the book.  I have begun to read it and I'm translating it for Mom. Best wishes for great success. We're awaiting the next one as well!"
Another string of simple words. Just a handful. But these actually left me breathless. What could possibly mean more? What sentiment, conveyed through this photo and that short note, could better tell the story of how multiple cultures, languages, customs and traditions can come together? Of how challenges can be overcome and the impossible be made to work; of the importance of sharing a story you never imagined living in the first place; of how affection, interest, and devotion naturally emerge from living any life at all, whether anticipated or accidental.
I wrote a book. So small, so minimal. Yet right out of the gate my Count to a Thousand has gone farther than I ever imagined it could. In the end, those four little words have grown large enough to fill my heart completely.